UniKL | Education Sector
UniKL website received
2000 hits perday!
UniKL at a glance, the leading entrepreneurial technical university in Malaysia. We are based in the heart of Malaysia's capital and commerce area, is one of the country's leading technical university.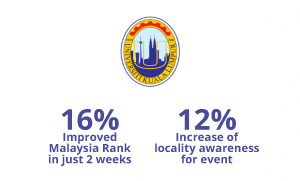 Universiti Kuala Lumpur or also known as UniKL is a multi-campus university technical university with its main campus based in Kuala Lumpur, Malaysia. The challenge is to lure new students to enroll with UniKL by offering education loans.
An Open Day Campaign were introduced at all campuses and highlighting the benefits to encourage new students to grab these opportunities
Within two weeks of Rocketing Viral, UniKL local website rankings improved from #376 jumped to #317 and also received a total of 1,807 website clicks for more information about the education offer.